Delivery driver & receiver
Name in other languages (French, German)
FR: Conducteur livreur repreneur /conductrice livreuse repreneuse DE: Lieferfahrer/in & Empfänger/in EL: Οδηγός παραλαβής και παράδοσης προϊόντων
Sectors that are recruiting
Transport providers, commercial and industrial companies
Type of mobility
Horizontal
Job purpose
Delivery drivers & receivers supervise the smooth running of the delivery, from departure to arrival at its destination. They also offer additional services to subscribing clients (seniors or in remote areas).
Main activities
Loading & unloading of goods, traveling domestic roads, respecting safety conditions, supervising the goods being transported, respecting delivery deadlines, updating the on-board documents, delivery slips and all regulatory papers, representing the company to customers, providing additinal services to customers.
Future possible career development
All the jobs presented here.
Percentages of compatibility
• Percentage of compatibility regarding transversal work situation - compared to a lorry driver
• Percentage of compatibility regarding technical skills, competences & knowledge - compared to a lorry driver
• Percentage of compatibility regarding transversal work situation - compared to a coach driver
• Percentage of compatibility regarding technical skills, competences & knowledge - compared to a coach driver
Level of competencies expected for a level IV automation
• EQF level of certification needed
Not yet specified
• Other prerequisites (if applicable)
Professional drivring license, depending on the types of vehicle used
Transversal work situation scoring
• Use of computer tools
• Reading or writing documents
•Communicating
• Working in a team
• Management, supervision
• Work rhythm
• Autonomy in procedures
• Repetitive dimension of work
• Working under pressure
• Emotional load
Technical competencies, skills and knowledge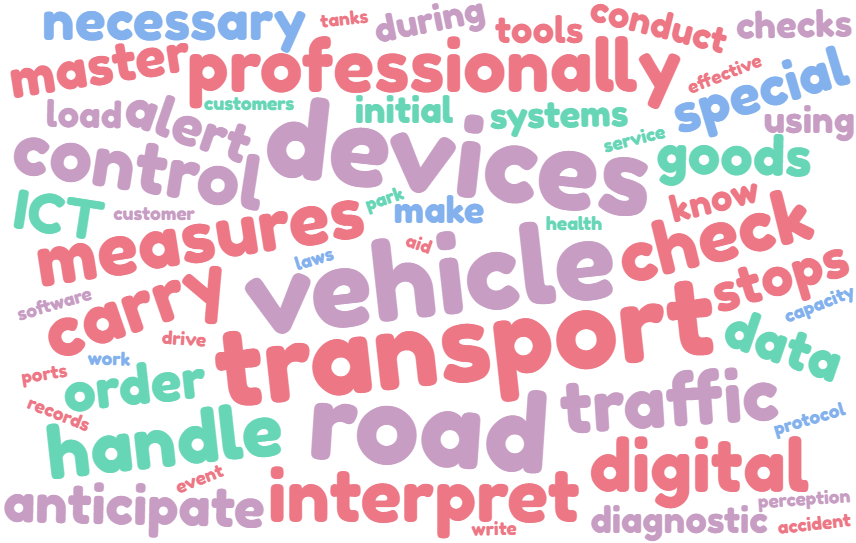 Work environment
• Organisational context
Depending on the area they are assigned (urban, regional), they can also use bikes, drones or other green delivery methods
• Business contacts
Storage worker, Supply chain assistant, Clients
• Pace of work
Occasional or regular shifts
• Reporting line
Freight transport dispatcher, Managing director
• Business travel
None outside the scheduled routes